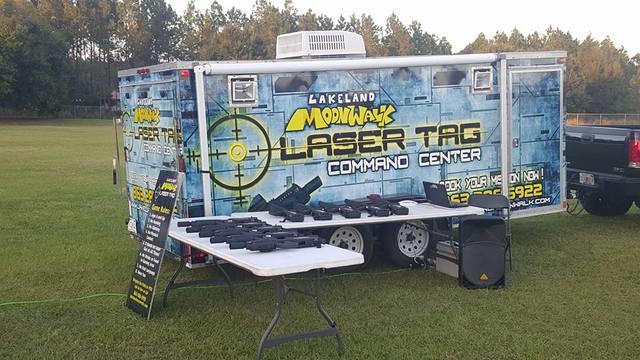 Monitors: 1
Outlets: 1
Age Group: 6 and up
Description
OUR LASER TAG CAN BE SETUP ANYWHERE!
ANY SPACE, ANY PLACE!
BIRTHDAY PARTIES - TEAM BUILDING - CHURCH GROUPS
Mission Based Game-play
We take the objective-based play of popular video games and combine it with a great physical activity to form the most exciting live gaming experience available. Go head to head against friends and family members. Feel the adrenaline rush of barely completing your objective within just seconds of the end of the round. Both adults and children can compete in the arena to accomplish missions and bring their team to victory.
Modern Video Game Brought To Life
Everyone is playing them sitting on their butts in the living room, or on the go with their phone so we are bring the modern video game to life! This means more then just your thumbs will get exercise. We have taken concepts from the hottest video game titles like Call of Duty or Halo and bring that experience to life in the real world.
Unique Game Modes
Tactical laser tag goes far beyond the traditional template for laser tag of shoot and be shot with unique mission types. This means you will experience an assortment of games that will test your skills on the field of battle and see how well you work as a team to complete your objective. We play game modes like Team Battle, Domination, Capture the Cube, and our Laser Tag Pro fan favorite: INFECTION!
Tactically Inspired Equipment that Rumbles!
Our equipment is built from the ground up by us! Created for the soldier in all of us our equipment features multiple weapon types shotguns, snipers, heavy machine guns and more. When firing you feel it with the build in rumble feedback. Each tactically inspired unit comes with comes equipped with Reflex Red Dot Scope and a tactical strap that is light enough for players of all ages. That means less complaining about the weight of the gun and more focus on the fun!
***NOT SUBJECT TO ANY ONLINE DISCOUNTS*** AGES 6 & UP Laser Tag to the extreme, Price $350.00.00 2hrs. Each additional hr $100.00. Check Out our Laser Tag Link on the side with pictures & game options.

PRICE INCLUDES; Barricades, sound system and a referee.