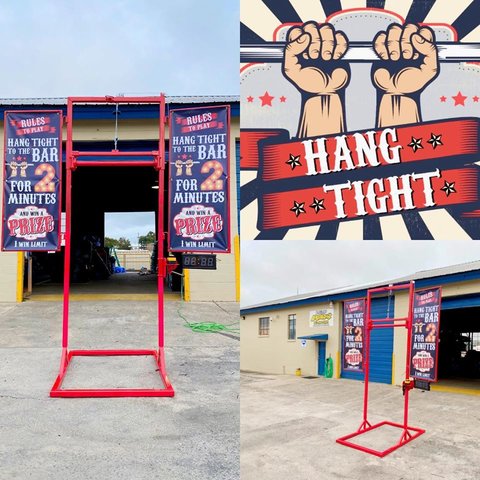 | | |
| --- | --- |
| Base Price – up to 8 hours of fun! | $150.00 |
| Keep it overnight - Only 33% more. Pickup next morning | $200.00 |
| 2 Day Pricing. Pickup Next day 7pm or after | $225.00 |
| Weekend Price! Drop off Friday 2pm, Pickup Sunday 7pm | $300.00 |
Description
Can You "HANG TIGHT" on our endurance challenge? To beat "HANGT TIGHT", all you have to do is hang from the bar for two minutes to win. It sounds easy enough, but it is so much harder than you think.
Which is great news if you are fund raising, because all the participants will think they are strong enough to beat the game, and almost all of them will fail, putting lots more money in the bank for your charity or good cause.
Our "HANG TIGHT" comprises a simple bar, with an adjustable height to make sure your feet are off the ground, and a count down timer to run down the two minutes of the challenge.
Even the strongest, most dedicated gym goer will struggle with this, as it becomes a test of endurance and mind over matter as much as a test of strength. One or two will succeed, but rather than costing you money, that will be the best advert you could ask for, as it will encourage all the rest to think they have a chance.